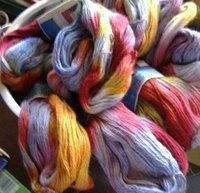 Does this look like viscera? It's some Araucania Atacama, 100% hand dyed alpaca from Chile. Skein got it in several months ago and it has been languishing on the shelf since then. I don't know why. I'm hoping it won't be so gutsy when it's all knit up.
The yarn is featured in the Ella Rae Pattern Book #1. The photos are so murky and dark that it won't even scan. I had planned to make a simple t-shirt sweater but now I'm thinking, maybe shawl. I'll have to work up a swatch and see. And ask Lisa which she would prefer.
The back of the Sunset Wrap is finished and the first front is started. Pretty busy day on Wednesday so not much else got done. I have today off and need to decide if I'm going to knit or clear all the knitting books off the dining table. If I knit I'll make a lot of progress. If I clear off the dining table it will just have to be done again in a few days. Maybe I'll just clear off one end and then knit.