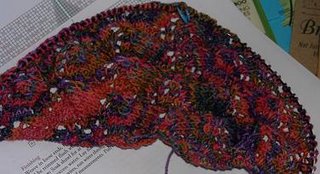 Koigu is not the answer. I thought I'd show you the progress on the Flowerbasket Shawl, before I rip the whole thing out and find something else to use. I had planned to use some Artyarn that I have in stash. I thought I had more than enough. When I started winding it I realized I had two different weights. Both are supermerino but one is labeled Supermerino04, a sock weight. The other three skeins are dk and there's not enough yardage for the shawl.
I got three skeins of Koigu a couple of weeks ago just because I had a discount. There's plenty of yardage but this particular colorway really pools a lot and totally obscures the lace pattern. It's also not as dark as it looks in the photo. After 44 rows, and a few ripped and reknit rows, I decided I'd learned enough, including how to take out double decreases. And that I also don't like the needles I was using. Some Inox Express. The budget version of Addis.
But I did enjoy the process. Now all I have to do is find something else in my stash that will work with the gauge and that will let the stitch pattern show.