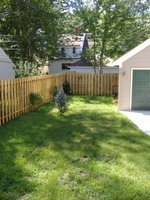 This is the kind of day that I dreamed about when I was still working at a real job and was looking forward to retirement. The weather is perfect, just cool enough so that sleeping in, well going back to bed after I got up to feed the cat, and sleeping in some more after I got up the second time to feed the cat.
There's nothing on my calendar that I have to do today. It's not even a laundry day. I was supposed to go to a meeting tonight. An irksome homeowners' association meeting that I've been fretting about for the past few weeks. I just called to make sure everything was ready and was informed that our management company representative, who has to be there, is ill and can't make it. So that's postponed and now I have the whole day free. I think I'm justified in starting a new project.
Could you ever guess where that sideyard picture was taken? It's the photo that was in my new camera when I got it. My friend in Michigan took it before he sent me the camera just to make sure everything was working okay. To me it looks so lush. We just don't get that green richness around here. And that's the new fence he had just completed.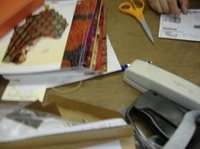 I haven't taken any photos myself as yet, except this accidental view of the cash register desk top at Skein. Maybe this week will bring some finished projects to the blog. The current shop sample vest is almost done.
So, back to my almost ideal day. I've had an urge to start a shawl. I've been helping someone with the Icarus shawl from IK. That's a possibility, except I don't have anywhere to block it. And a friend has made the Flower Basket shawl which I'd like to try but I don't have the pattern yet. I'll find something. Maybe there's something in
Folk Shawls
that I have the right yarn for. And enough.