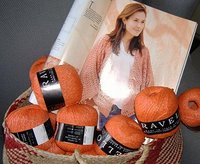 I've started an new project. The Sunset Wrap from
Knitter's
#79, Summer 2005. I actually started this once before but decided I probably wasn't going to have enough of the yarn I was using.
I've had this Tahki Ravello in my stash ever since November 2004. I got it when I went to the Knitters Review Retreat. You can read about that
here
. Scroll down to the beginning of the month. And while you're scrolling you'll also see a better picture of the yarn. It looks pretty washed out in the current photo. Still getting acquainted with the new camera.
Amie
, a brave and witty spinner/knitter, brought the yarn to the Retreat as she had decided it was too orange for her. My daughter likes orange a lot. I'm hoping this won't be too orange for her.
I had recently become obsessed with this yarn. It kept popping into my mind all day. So I figured I'd better do something with it and get it over with. I tried a couple of patterns that called for this exact yarn but wasn't able to get the gauge the pattern called for and didn't want to mess around with refiguring etc. Then I remembered the ruana pattern. I have more than enough yarn and the gauge and needle size in the pattern are close enough to what the ball band stipulates. So there you have it.
I planned to show you a picture of my progress but the batteries in the new camera just died. The batteries in the old camera are also dead. Good thing I checked since I need a camera for tomorrow.