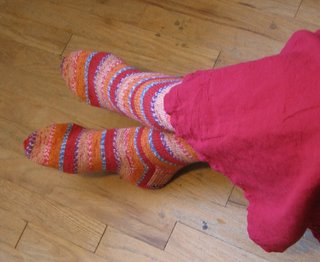 What a clean floor! And a nice photo of the birthday socks in use. And, yes Lisa, they work quite well with your red skirt. Thanks for sending the pic.
Here it is September and summer is hanging on tenaciously. Labor Day is almost always one of the hottest days of the summer around here. It doesn't look like we're going to break a hundred this year though. But we'll be close enough.
Since this is the last holiday weekend of the summer I don't expect we'll be very busy at Skein the next couple of days. I did manage a couple of full pattern row repeats on the Sunset Wrap yesterday and will do at least that much today. Well, that's the plan. I'm finding it extremely difficult to stick to one project and not let my mind wander off to some of the new patterns and yarns I've been seeing. If I just keep gritting my teeth I should be able to finish this sometime next week.