While all our friends were sweltering in the 95F temps in Pasadena and Monrovia, we were in the cool 73F breezy clime of the Long Beach Marina. That's where
Alamitos Bay Yarn Company
is located. We arrived shortly after 11AM and had a bit of a look around to see what we'd like to come back later and purchase.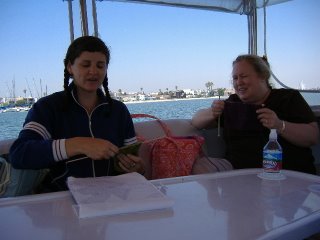 Lulu on the left, Mendy on the right, getting ready to do some knitting.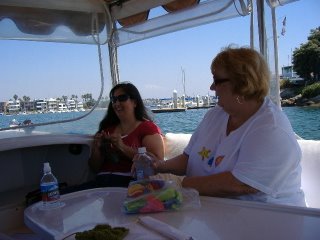 Renee on the left, Judy on the right, knitting and finishing baubles for a Noni bag.
We saw lots of fancy boats and the backs of lots of houses. This is one of the channels in Belmont Shore. I think.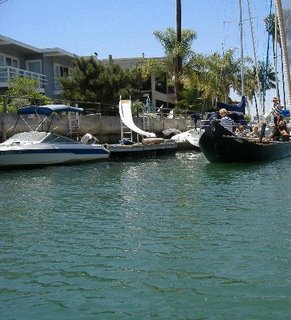 Although we were riding in a small runabout boat called a Duffy, there's more than one way to take the tour. You could take a gondola. This one had a table down the center and a bunch of women who looked like they were having a lot of fun.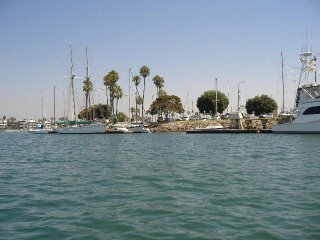 So, yes. We had a great time. It was very relaxing, of course. Not much knitting got done as it was so peaceful to just look at the houses, the boats, the kids rowing in kyacks and to just let the slow pace and cool breeze lull us.
I only bought some Lorna's Laces sock yarn. I have a photo but I can't get Blogger to upload it. I guess I've used my quota for the day. Maybe tomorrow.