What I've finished and what I've started
.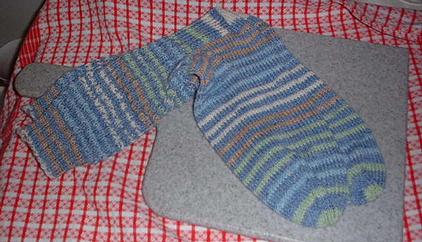 Here are the completed Waffle Top socks. I only show them as evidence that I've actually completed something, and in a relatively short time. Only two weeks. Also, this is the best match, sock to sock, that I've ever achieved in self-patterning yarn.
Before the needles had even cooled off I started these: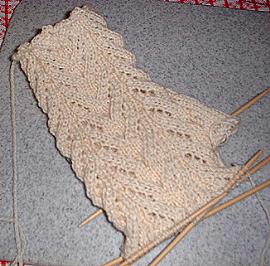 My first ever gloves. I made some mittens a few years ago but they were made flat and stitched up later. These are done in the round and will have demi-fingers. The pattern and yarn are from Dale of Norway. The yarn is Daletta. It splits if you're not extra alert. But the pattern is easy. I'm a little concerned that these will be too big but since it's my first pair I'm just following the pattern. Later, when I'm more familiar with glove structure I'll make some changes.
What's a yarn tasting?
A couple of people have asked this question so I guess I'd better explain. Each person paid $10.00 to participate. That fee was deducted from any purchase made that evening that totaled $75.00 or more. The event was organized like a multi-course dinner. Each "course" consisted of several different yarns that were chosen by the shop owner, mostly from yarns that are new this season. Really it was just a chance to try out yarns that we might not have otherwise been able to test. I've never heard of another shop that has done this, and I don't know if Unwind will repeat it, but it was a lot of fun for everyone