Newest WIP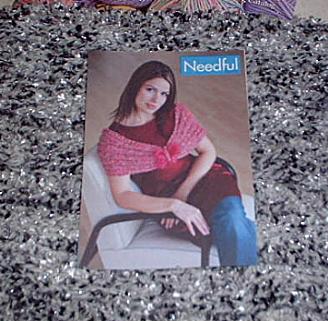 I'm about halfway through the Butterfly Shawlette that I'm making as a shop sample. This comes as a kit from Needful Yarns. It's a very easy knit of K3/P3 with a garter stitch edge. The main yarn is Kristine, a very loosely plied novelty. The first ball was fine, the second one is a pain. One of the plies doesn't feed well so I'm getting bunched up stitches. I'm having to knit with almost no tension to keep the yarn from separating. There's a second yarn in the kit that's called Crystal. It's used to make the butterfly wings. There are several colors available but Ann Mary chose the grey one. The whole thing is really just a scarf but it's a change.
I made lots of progress on the
neck warmer
that I started for the Dulaan project. Thought I'd never finish the seven inches of ribbing that is the neck. I've worked through the first third of the increases. Even though there are more stitches now it feels like the rows are going faster. Just having those make ones to do is enough to keep me awake. I hope to finish tonight or at least get to the final section of K2/P2.
Only a few more weeks and I'll start having two days off each week. Skein is open on Sunday from November through March. I'm looking forward to having that additional day. Lots of new people yesterday. We've been at the current location for almost a year and people are still discovering us as well as those who are just discovering that we've moved. The new location is so close to where I live that it makes it hard to even consider going elsewhere.