Waffling or waffle-ing
It is with some trepidation that I try to post again. Will just have to see how Blogger behaves today.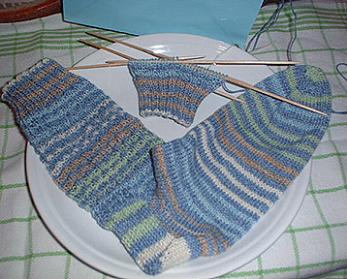 Here is sock one and the start of the second.
Here
's the pattern I'm not using but it's very similar. It's almost the same except I'm only using 64 stitches and I'm not continuing the pattern on the foot of the sock. I saw the socks that my friend was making and thought they looked cute and would be easy to knit. She's the area rep for Plymouth Yarn and she was using their Sockotta, a yarn I've used before and which I like. So I bought a skein and cast on last Thursday. I should be able to finish these this week. The sock pattern is called Waffles, hence the corny title.