Well, here's a couple of pics of my socks.
Hmmm! That's a lot fuzzier than I thought. Oh well. I made these while watching the evening news over the past few weeks. I used some stash yarn that was given to me (along with a lot of craft grade yarn). It's a synthetic called orlon. Easy to work with but I'm not sure it will be comfortable to wear. I doubt if it breathes at all. But I like the denim color and just wanted to get in some more practice.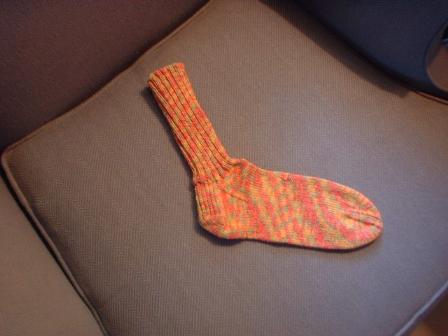 This one is the Basic Sock from Nancy Bush's Folk Socks (yes, I know that's supposed to be italicized but I don't know how to do that yet). I'm using Plymouth Yarn's Sockotta. It's a nice yarn to work with but I'm not 100% sure I like the way it patterns. Maybe with a different stitch count it would be better. I'm almost done with the ribbing of the second one, thanks to knitting at Joanne's last night and to watching Manor House tonight. I think sock pictures are pretty funky when the sock is not actually being worn. But there are limits to how much I can contort and Lisa wasn't here to model. Maybe when I get these both done I will be able to talk her into showing them off.
We got some new sock yarn today at Skein. It's from Schaeffer and is called Anne. One skein is more than enough to make a pair of socks. There's something over 500 yards. It's a blend of merino, nylon and something else that I don't remember right now. It is supposedly hand dyed. The skein I want still smells of vinegar. I'm still searching for a way to justify spending $25.00 on a pair of socks. Any suggestions? (Anita, these came in after you left or I would have shown them to you.)
Other than that it was a slow day. We did have a couple of nice sales but very few customers. My friend Doris came in so I could do the three needle bind off on the shoulders of her current project, and also pick up the stitches on the two fronts. It's always a delight to see her. At 90 she's obviously not a spry as she used to be but she's still just as feisty. She left one of the sleeves behind, accidentally, so I dropped it off to her on my way home. She was so chagrined that she had done that. She's going to try to pick up the stitches for the neck band by herself but if she can't do it I'll go by her house on Friday on my way to Skein.
I was so saddened to hear that
Jerry's
cat friend Ben had passed on. Jerry's tribute to Ben is so honorable and fitting. A great friendship continued.