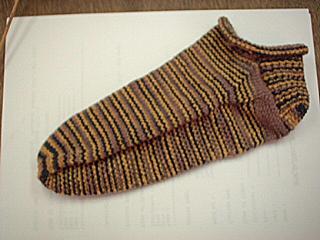 Here's the Fast Florida Sock. I used
this pattern
as a guide. I added 12 stitches to make it a little bigger around and I had 22 stitches in the purl section that goes under the foot. Folks at the shop seem to like it. I'm going to make a complete pair now. This one's a little short for Lisa.
And here's my progress on the Mexico sock.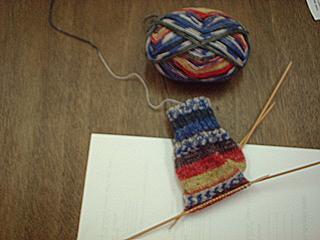 You've probably all seen this sock or a similar version by now. Just wanted to show how much I got done between last night and this morning. I'm just starting the second repeat of the color. And those are my new Crystal Palace 8" dpns. Much easier to work with than the 6".
The Showcase House tour was exciting and interesting, as usual. The house is huge! Much more coordinated throughout than in previous years. I'm glad we went early because there were several bottlenecks in the traffic flow through the house. After the tour we went to a street fair in South Pasadena. Saw a couple of people I know who had booths there. It was a beautiful, warm day. But someone told me today that it might rain tomorrow. I'll believe that when I see it.