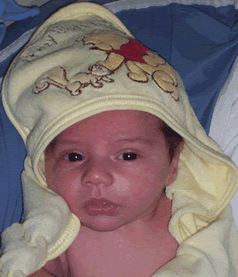 Nicholas Mateo, at about ten days or two weeks old. (I forget.) He will be two months old tomorrow. His Mom brought him into Skein today. What a way to lose an audience! Today was the first time I'd seen him really awake. One of the students asked if he was my grandson. His Mom said, "Well, sorta." We didn't explain that. I held him for a few minutes, until someone else insisted on a turn. He loves to stand up, all ready. Ann Mary thought that was a bad idea. I told her she was just being old fashioned. It's probably a good thing I'm not a grandfather.
I had a new student today. Delightful lady and a quick study. She was very surprised that she got it so quickly as she hadn't knit since she was a little girl in England. I had her knit a few rows just to relax and then showed her how to purl. She had never learned that but it wasn't a problem. We went through cast on and cast off in just a few minutes. Then we did some experiments with different size needles and using two strands held together. And the I showed her how to use yarn overs to create a drop stitch. So she's off to do the almost obligatory scarf. Although she stayed for a couple of hours I had already covered the basics in about 20 minutes. The way she's going I expect to see her again on Friday for her next project.
It was nice to see the shop busy again. It's been kinda slow for the last week or so. We had a few new customers as well as some old favorites. I think I had lunch at about 5 o'clock. But I like cold pizza anyway.
Trying to finish at least one of the Fast Florida socks so Lisa can try it on when she comes over this weekend. I have about an inch and a half to go on the foot and then the toe shaping. I'm a little more comfortable with the Fixation now. I have a second color way to work another pair with if this one works out. Made a mistake in the Basic sock and have to rip a couple of rows before I can start the gusset again. And I worked through half a ball of the Mosaic FX for the shop sample scarf.