The Easter Vest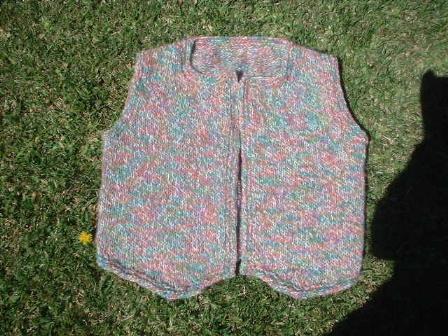 and that's my shadow off to the side. (One crummy photographer). I was supposed to post this a week ago but I got busy and was doing other things so I just got around to taking a picture this morning.
And here's a detail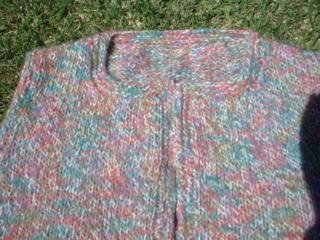 Not really great photos but that's partly because the yarn is so fuzzy it's hard to see the individual stitches. I'm really glad this project is done. The yarn was most unpleasant to work with.
So long as I was taking pictures I thought I'd take one of the current sock project.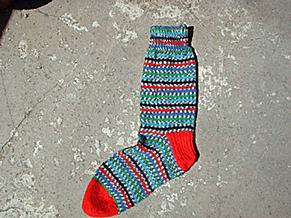 I got the pattern from
Knitting Now
. There are several other free patterns on that page that I plan to take advantage of as time goes by. This may be preaching to the choir but as a recent sock knitting convert I just have to go on record as saying how much fun it is. I may never get as wrapped up as
Lynn H
who is now up to 74 pairs (plus some odds and ends that she's still working on) but I am really excited about this. I'm not sure how long I'll use the self-patterning yarns. They are easy, of course, but I think I'd like a little more challenge. I'm still just exploring the various techniques of shaping but once that's behind me I'll probably want to switch to something with fair isle or textured stitches.
Traffic has really slowed down at Skein although I continue to be busy with students. Saw several folks last weekend that I hadn't seen in a little while. That guy, Tom, was back in on Friday with his second swatch. We got him started on a simple scarf using garter and stockinette stitches plus he'll do some color changes as he goes. He's getting better but still has difficulty figuring out which side he's working on. I haven't taught any absolute beginners in a while but I have a few lined up over the next few weeks.
Let's see, what else? Oh, about the job. I still haven't made up my mind but I've been for a couple of lunches with the prospective employer. I'm supposed to talk with them again on Thursday to see what kind of compensation package they will offer. It turns out that it's really a sales position. I've never done that kind of thing other than retail sales. So we'll just have to see.