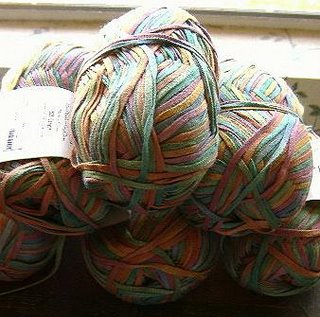 Southwest Trading Company's Phoenix. I've used this yarn before and it's a pleasure. I think this is going to be a short sleeved pullover of some sort. Just need to fiddle around with it to see how much it will take in the way of stitch pattern etc. When I'll get to that I don't know.
I'm giving up on the two remaining photos. They're both of some sock yarn, one a gift and one from the de-stash. You'll see it eventually when it's transformed into actual socks.
Yesterday was disappointing considering how busy I was on Tuesday. A couple of students late in the day. There weren't all that many shoppers either. I did spend a couple of hours helping a guy pick out yarn for a cable sweater. He wanted a nice yarn but didn't want to spend what that would take. Finally settled on Galway Chunky. It'll work but won't be as spectacular as the RYC called for in the pattern. I wonder how he was paying for the Mercedes sedan he was driving.
It's a day off for me. It's also laundry day. I'd better get started so I'll be done in time to go to Knit Night.