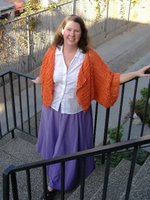 Here it is! The Sunset Wrap, at last. Lisa came over last night and tried it on. She loves it. And it's just in time for autumn. Even though we're still having summerish weather.
I'm generally happy with how it came out. I had to rework the shoulder seams several times before I got them right. I still have five skeins of the Tahki Ravello which may become a top if I can find something to put with it. But it'll be while. The yarn isn't all that much fun to knit. It has no give and it snags like anything. But it's sure bright!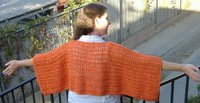 It would also come in handy if you ever needed to direct traffic.