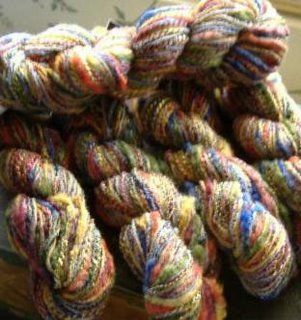 I buy a lot of yarn. Sometimes I buy yarn just because it's there or because I want to show support for a local yarn shop. I buy way more yarn than I'll ever be able to use even if I were a faster knitter.
It's rare that I obsess about a yarn, can't quit thinking about it, will it still be there tomorrow. That sort of thing. Skein got this Berroco Trilogy a few weeks ago. Ann Mary is just now trying to find a place for it on the shelves. I had to get a bag of it before anyone else saw it. The photo doesn't come anywhere near showing its wonderful mix of colors and textures. I've no idea what to do with it but it's mine!
The yarn comes in other colorways but none of them compare to this one. They're more monochromatic, which is fine if you like that sort of thing. Why settle for one color when you could have this riot?
I also bought ten skeins of Berroco's new Ultra Alpaca. A 50/50 blend of alpaca and wool. Pretty basic yarn. Off white worsted weight. But it's really soft and I think the wool will help show off some interesting cabling. It's put up in 100 gram skeins at 215 yards (198 meters) and is priced at $10.50 per skein. I still can't believe that price for that much yardage. I would have expected a much higher price. No picture yet. I'll need a swatch first.
Eight more rows and I'll be done with the Sunset Wrap except for four short seams and weaving in the ends. I'm taking an additional project with me today because I'm pretty sure I'll finish this by noon unless I get a lot more students than I've had lately. The weather has changed abruptly and we're supposed to be ten or twelve degrees cooler than yesterday. I hope they're right.