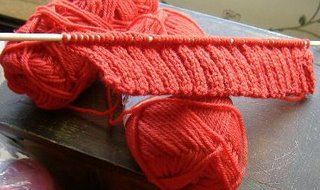 I tried to post this morning but I ran out of time waiting for Blogger to upload this simple photo. It's no longer up to date. It's about seven inches longer than it was this morning. This is my first sweater for Dulaan 2007 and it's more red than orange no matter what the photo shows.
I'm using some Superwash Sport that was donated by one of my knitting friends. I made a couple of things from it last year for Dulaan. It's a nice, sturdy yarn. The pattern, at least so far, is one from Ann Budd's
Handy Book of Sweater Patterns
. Since we decided to knit more small sizes this year I should have enough of this yarn for at least two sweaters.
I finished the Ironstone shawl last night but didn't get around to taking a picture. I don't think Ann Mary likes it very much but I have sold some yarn already because of the sample and I had a couple of ladies drooling over it this afternoon. It's hard to beat glitzy yarn when you want to be impressive, especially on a large scale piece.
Next up, a Hallow'een hat in black fun fur and orange something that looks like strips of foam rubber. And a matching scarf.