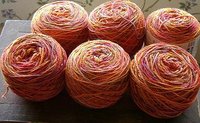 What to do with six skeins of Koigu. I got these last week in the yarn de-stash that was put on by one of our group. I'm thinking shawl but I could be persuaded to make something else. Maybe a shell. Ideas?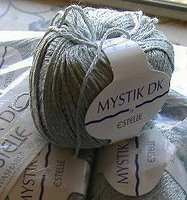 Or these sixteen balls of Mystik DK. It's pretty dressy so maybe a lace bordered jacket or sweater. I haven't worked with any of this company's yarns. It's from Estelle, a Canadian company. I do have some silk in stash that I got a couple of years ago, in an earlier de-stash held by the same lady.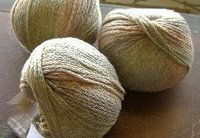 And there are thirteen balls of this cotton yarn, Kelly. This is a totally new name to me. It looks a lot like Katia's Arc en Ciel but it's a bit smaller, more of a dk than a worsted. Short sleeved jacket?
There's more but I think I'll wait to show it off.
The homeowners' meeting was a dud. Not enough people showed up to have a quorum but the jerk who said he wasn't going to be there, was. He's such a waste of time. After I got home I finished the first sleeve of the rust tweed sweater I've been trying to get done. I'll start the other one today while I'm at Skein, after I finish the felted slippers I'm knitting as a shop sample. One is done and the other is started. Ann Mary will do the felting and then I'll do some sort of embellishment on the instep.