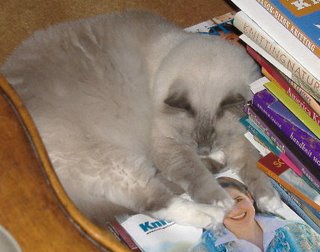 There have been lots of cute cat pictures this week. Knitting bloggers do this a lot, especially when they really don't have any knitting content. Why should I be any different?
Patrick loves books. Well, he loves to sleep on books, especially knitting books. They have such sleek, slippery paper. He has been known to flip pages to get to one with more ink coverage.
I finally got around to moving all the knitting books from the dining table to the floor so I could organize them and, theoretically, put them away. Patrick was delighted when he saw this. He almost immediately selected a stack of Vogue Knitting for his nap. I had to disturb him to get a copy of last winter's issue to show Lisa the yoga wrap that I want to make. Not to be outdone Patrick moved to the other small stack, Knitter's Magazine. (The one you can see is the one that has the pattern for the Sunset Wrap.) He slept like this for at least an hour.
It's great that he likes knitting magazines. He doesn't ever bother my needles or the yarn. I guess he's more of an intellectual type of cat. On the other hand, he can be very irritating. All he thinks about is getting me to brush him some more.