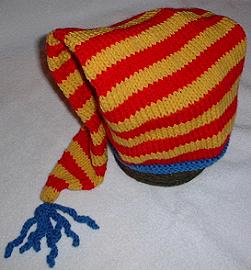 If Dr. Seuss designed a sleeping cap for Superman it would probably look something like this. It's 100% acrylic, plus a bit of cat fur here and there. Absolutely no kryptonite. I tried it on. It'a too small for me so someone in Mongolia is going to be be able to leap tall buildings in a single bound if only to escape.
I've wanted to make a hat like this for a long time. I don't think I have enough of this yarn left to make another one but I know where they have more. I used a pattern from an OOP Mission Falls book as the basis. I made it flat and stitched it up so the stripes would match better than if I had tried to do the jogless job.
The pink Galway sweater has sleeves now and I'm working on the raglan decreases so that should be done sometime this week.
Thanks to everyone who left congratulations comments and sent emails on my Blogiversary. It's a real good, feel good sorta thing.