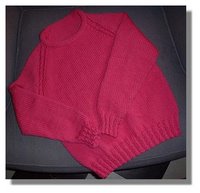 Freshly finished! Just wove in the last of the ends and it's ready to go in the Dulaan drawer.
I really don't like to do finishing so I've been making raglans in the round using the charts from Ann Budd's
The Knitter's Handy Book of Sweater Patterns.
This is the third one I've done and I think I'm finally beginning to understand how the neck shaping works. It's not tricky. I was just reading too much into it.
I used some Galway yarn that I've had in stash for a long, long time. I still have seven hanks left so, if I have time, I'll make another sweater for Dulaan but I think I'll switch to a different format and just put up with the extra finishing. Maybe a modified drop shoulder pullover with some kind of pattern stitch.