Sometimes when I'm cleaning house it just becomes too overwhelming and I just have to stop and knit something. And that's what I did yesterday. I made some wrist warmers using some of the left over yarn from socks I made during the holiday knitting cycle. You'll have to take my word for it. They're really cute and Lisa liked them a whole lot. I just forgot to take a picture before they went off to live in their new home. I'll make some more.
The same thing happened with the felted bowl that one of my students made for me. Lisa liked it so much that it's also gone to live with her. And there's no picture of it. Maybe she'll send me one. Lisa, not the student.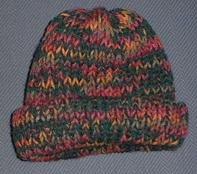 This is one of the hats I knit a couple of weeks ago for the Dulaan project. I don't know exactly where I got the pattern but one of the Monday group was making one and I thought it was cute. It's two strands of worsted weight knit together. You make a long tube and then gather the two ends, insert one end into the the other and stitch them together. Very warm and cozy but I thought the top was too thick. Good protection, I suppose, in a hail storm. Do they have hail storms in Mongolia?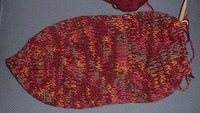 So I'm revising the hat. I knit half the length and then did a conventional decrease shaping at one end. Then I picked up stitches from the cast on end and am knitting in the opposite direction.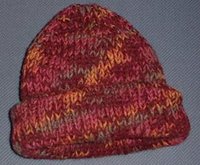 And here's the finished hat. I had some problems posting photos this morning so I went to my Monday Dulaan knitting group and finished the hat. I made this one a bit bigger than the first one. I think I like this version better but it is more trouble.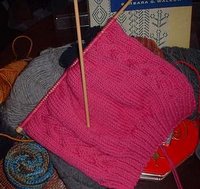 I've also started another sweater using the remaining magenta Galway. I'm about three cable repeats farther along than when I took this photo this morning and am almost to the armhole bind off. I used my Sweater Wizard to do the math and just added the cables where I wanted them.