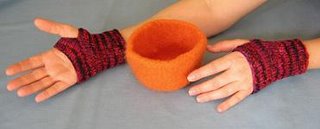 The orange felted bowl and the wrist warmers that I mentioned a couple of days ago. Lisa sent me the photo. What a sweetie! Really the best daughter and friend anyone could have.
The wrist warmers are from a pattern that a friend gave me and is a design by another friend. It's available at
Unraveled
in Monrovia. I don't think it's on line. You have to go into the shop, which is a fun thing to do anyway.
The bowl is one of the patterns in
One Skein
by Leigh Radford, one of the most popular books around right now. I've made several things from that book and will be doing some others just as soon as I'm caught up with my Dulaan projects.
I did finish another hat last night but I'm out of time so no picture until tomorrow.