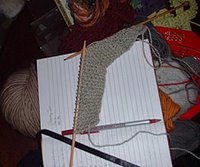 This is all the knitting I did this weekend, except for the stuff I did while I was at Skein on Saturday. I've started a baby sweater and cap ensemble that is for the soon to be born son of one of my regular students. I'm using Mission Falls 1824 Cotton that I ordered from
a shop in South Carolina
.
The pattern I was originally going to make, even though it used this yarn, was just not looking good when I actually started it. So I'm making a different pattern, from the same book,
Wee Knits
. I haven't made a lot of stuff for babies, newborn or otherwise, so I'm hoping the designer knew what she was doing when it comes to the sizing.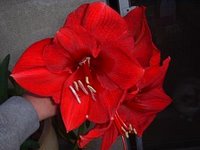 And here's the annual amaryllis shot. The blossoms are so big and heavy that I had to hold this stem up in order to see the face of the blooms. I'm always amazed that this plant keeps performing. The original bulbs must be at least eight years old by now. Can't remember exactly which Christmas I got them. I think I'll cut this one and bring it inside so I can enjoy it.
We went to dinner at a Mexican karaoke place last night. I'd never heard of it either. This is the first karaoke place I've ever been to and it was a hoot. Partly because it was so different from the kind of restaurants we usually go to and partly because I got to have some chips and salsa. I've really been missing those but I've had my fix so I'll be okay for a while.
It's Dulaan knitting day so I'm off to get ready for that. More work on the magenta sweater and will maybe finish the first mitten of the pair I started last Monday.
Later the same day
.
I couldn't get this to post this morning. I've been to Dulaan knitting and am home again. Let's see if it works this time.