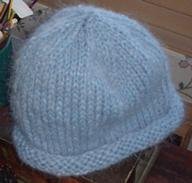 Okay. So it's not the most exciting hat you've ever seen. But it's cute, warm and the pattern is
here
.
I used some Encore and Classic Elite Le Gran Mohair for my version. Got it on sale at Unraveled a few weeks ago specifically to make this hat. A friend of mine has made several of these using Noro Kureyon and a finer mohair. They're denser than this one but really good looking.
Ryan
has several other patterns on her blog that she recommends for Dulaan knitting. Obviously you can use them for other things but they're so perfect for this project.
So, it's Thursday. One of my days off and the one I think I enjoy the most. I don't have to be anywhere until seven in the evening so I can really take my time, if I want to, to get stuff done. Play with Patrick, take a longer walk, get to the market and still have time for some knitting. I get to call my diabetes nurse this afternoon to give her the results of my last two weeks of glucose monitoring. I hope she's as pleased as I am. With only a couple of exceptions my numbers have been well within the acceptable range. Walking two miles a day has made the difference I think. Even if it does mean I have less time in the morning between blogging and getting to where I need to be.