Who is this woman?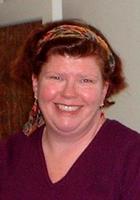 And why is she smiling? Is she about to subject a room full of nervous knitters to the tortures and rigors of knitting the Cocoon Jacket? Does she have lots of witty and sometimes corny jokes to tell? Is she just giddy with all the traveling she's been doing while spreading her knowledge and skills to unsuspecting students? All of the above?
That must be Annie Modesitt, designer and teacher of knitting and all round good sport. Last night she held sixteen of us captive while delivering tips and hints of all sorts but mostly leading us through the ins and outs, tricks and pitfalls, of knitting the Cocoon Jacket (or Twisted Float Jacket as it's named in Vogue Knitting). I haven't had a chance to talk with any of the other students so I don't know how they felt about the class but I thought it was definitely worthwhile. I could probably have made the jacket without the class but it will certainly be quicker to get it going. In fact, we had started the actual piece before we left for the evening.
There were a few people who had never worked on dpns so there was time for them to practice that. And some people, including myself, had never tried inserting waste yarn into their knitting or picking up the stitches later to begin knitting in the round. Annie used my swatch to demonstrate how to do it so I still haven't actually done it but I don't think I'll have any problem.
The twisted float stitch is actually pretty easy to do. It's somewhat like knitting fairisle but you deliberately twist the yarn as you alternate the stitches, bringing the new yarn
over
the dropped yarn. You end up with what looks like a braid on the wrong side of the garment, but the wrong side is the right side when you're all done.
This is going to be one big undertaking so I don't expect to really get much done until after the beginning of the year. But I'm looking forward to it.