Some more sock pictures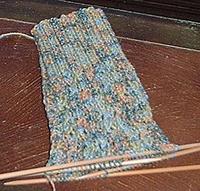 A couple of days ago I was looking around for a new sock pattern. I checked through several books but didn't find anything that I really wanted to make. I started looking for my SocksX3 book but couldn't find it. So I settled for this pattern based on one in
Sensational Knitted Socks.
This one has an alternating eyelet on either side of the rib.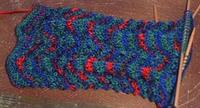 I still wasn't entirely satisfied. I kept looking for the missing book. Then I remembered that back at the beginning of the summer when I got all those storage cubes for Father's Day that I had put away a lot of the then current projects. The book was in one of the bags, along with a barely begun Feather and Fan Sock. I spent most of yesterday working on that project. Is it just me or does Wildfoote really split easily? Anyway, I'm almost to the heel which I think I'm going to change from the original pattern.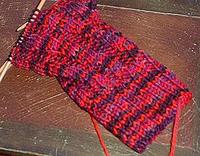 Here's the current bedsock. This one I pick up and work on a little each morning or evening. I got this Interlacements Toasty Toes yarn five or six years ago at a weaving show. It's a very soft merino and angora blend, or I think it is. The pattern is a variation of one I found in
Socks
by Rita Buchanan and Deborah Robson.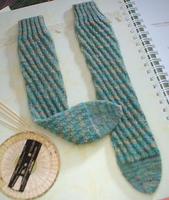 I took my copy of Nancy Bush's new book,
Knitting Vintage Socks
with me last night so I'd have something to do while I waited for dinner. I had forgotten that this bedsock pattern was in there. It's very similar to the one I'm already making but with enough difference that I think I'll try that next.
I have a lot of sock books. I need to get them organized.