Can spring be far behind?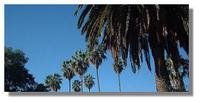 This is a partial view from my balcony this morning. I've mentioned before how much I like palm trees. There are palm trees all along my street and I never tire of admiring them. But they don't change color in the fall.
It's still very warm here but we're getting busier at Skein. The holidays are really getting close. Some knitters are planning ahead and getting started. I have a few things done and a few that are still in the planning stage but I have the yarn at least.
There's going to be a Knit-Out in Pasadena. Saturday, October 15th in Memorial Park which is quite near Old Town, from noon until five. I don't think I'll be there since Saturdays are very busy for me at Skein. Anyway, it's a fund-raiser for breast cancer research. There's going to be a fashion show, organized by Barry Klein of Trendsetter Yarns. Skein will have a booth or table there but I don't know who's going to staff it.