Wrap Up
I went to the Knitters's Retreat fully intending to spend a lot of money on yarn. And I did. There was a Marketplace on Saturday afternoon. When it was over I had enough money for a cheap dinner, if I'd needed one.
Carodan Farm Wool Shop
was there with some of their wool as well as lots of commercial yarns.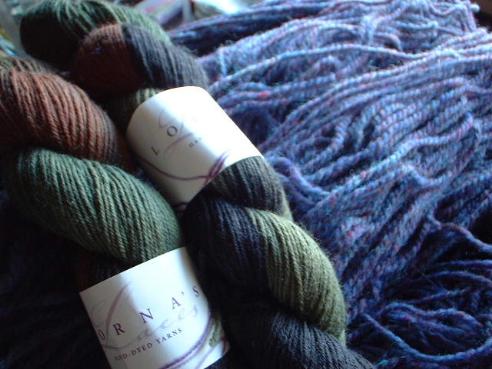 I got a couple of skeins of Lorna's Laces sock yarn and three hanks of their wool. I could get the sock yarn locally but I was being supportive. Their wool is nice, a little scratchy, but I got enough for a generous scarf or small shawl.
I didn't buy any of
Stony Mountain Fibers
' yarn. Most of what they had was roving and I don't spin. But I did get a hank of
Interlacement's
Cheyenne. Enough for a vest or poncho.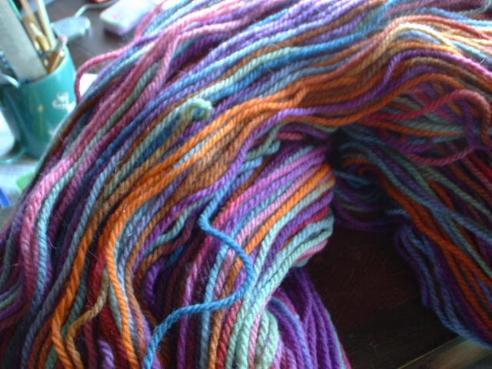 My biggest splurge was at
Spirit Trail
. I had a hard time deciding just what to get. But it was all going fast so I went for the stuff that I knew I'd love to work with.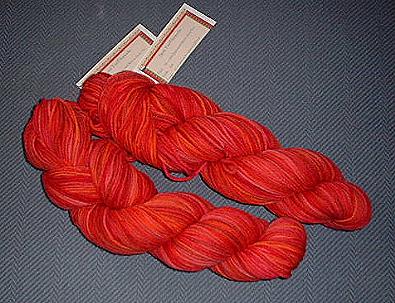 I was surprised at how different the color in this yarn is in the California light from the light in Virginia. It's much warmer and more coral than I thought it was when I bought it. I love the way it feels. So soft but with substance.
Jen's sock yarn. What great colors! They're a lot deeper and more intense than the photo shows. Will I ever have enough sock yarn?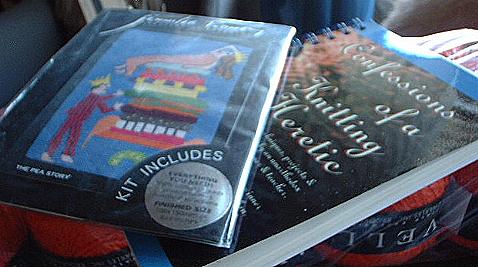 A needlepoint kit from Clara's Window and Annie Modesitt's book,
Confessions of a Knitting Heretic
, personally autographed.
It's probably a good thing that there weren't any more vendors. But I did go yarn shopping on Monday.