More, more, more!
This is my second try. I hate it when Blogger loses it and my whole effort just goes off into cyberville somewhere. So, let's just try this again.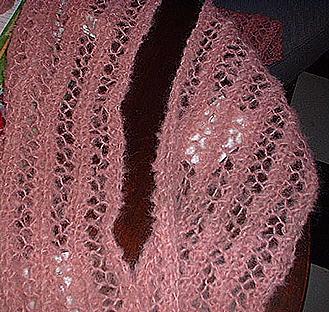 I finished the knitting on the simple mohair scarf. All I have to do is add some fringe and possibly some beads. I'm hoping a quick wash will perk up the mohair a little and maybe give the whole thing more definition.
There doesn't seem to be anything in my stash that meets the requirements for a scarf for my friend's birthday/Christmas present. Fortunately A Stitch in Time is having a sale, 30% off, on their knitting yarns. So, Mendy and I headed over there this morning.
The Reynold's Cabana is cotton and acrylic and I thought it would make a great scarf. So far it doesn't. But something might happen. The other yarn is Mango Moon's wool. I heard that it's part of their effort to create jobs for women in Nepal, similar to their recycled sari silk. I think I'll make a vest with loop stitch fringe around the front opening and maybe the armholes. I'll have to see how the yarn behaves first.
There's a new yarn shop in Monrovia, Unravel, just about twenty minutes from my house. After lunch we headed over there. It's still a work in progress but it's worth the trip. We got to look in the back room at some of the stuff that isn't on the floor yet.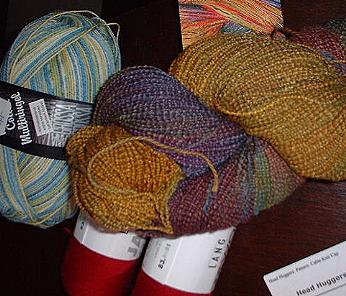 The big hank is Blue Heron's beaded rayon. I have no plans for this as yet but I sure liked the colors. This is a new brand for me. You can see a couple of skeins of JaWoll peeking out that I thought would be seasonally appropriate even if I don't get anything started this year. The other sock yarn, the blue/yellow Meilenweit, is actually from A Stitch in Time. I just forgot to put it in the picture.