More Knitters' Retreat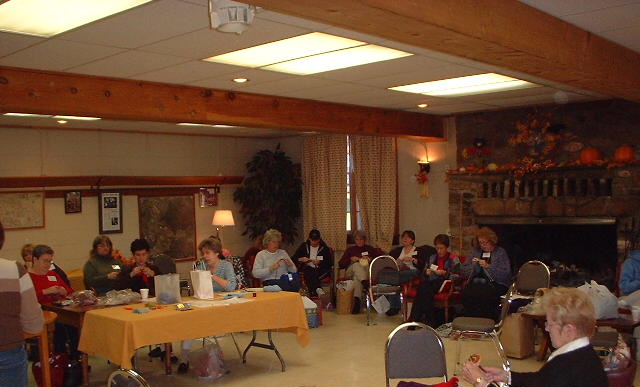 Sunday morning in the Large Lounge. Lots of knitters and spinners. Lousy photo. I think I know who some of these people are but am not sure enough to point them out. But anyway everyone is busy. The room is noisy. I think we're waiting for lunch.
The food at Graves Mountain Lodge is plentiful if nothing else. I had heard about the family style meals and all so I was looking forward to that. And there was lots of food. I thought it was a little bland and repetitive. I think we had fried apples with every meal. And usually some kind of apple dessert, with ice cream. But the meals were fun. Lots of laughter and animated conversation.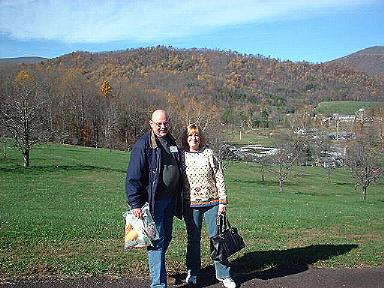 The countryside around Graves Mountain Lodge is beautiful if not breathtaking. What is breath taking is the climb up the hill from the Main Lodge to the residence lodges at the top of the hill. I only remember walking it once. Half way up the hill I met
Wendy
and L-B. This made a perfect photo op. I had not met either of them before. Both really nice ladies.
I've been waiting for almost a year to meet
Bess
. It was her entry last year that really motivated me to go on the Retreat in the first place. Plus, we've exchanged lots of emails and have become good friends on-line. That's her on the left in the photo. She was in much demand to teach drop spindle knitting.
And here she is in the finishing class she led on Sunday morning. Not to carry on too much about this but meeting Bess was fantastic. We had lots of good time chats. I was sad to say goodbye.
Saturday morning
Annie Modesitt
, an unacknowledged standup comic, presented her chart reading seminar along with "cabling without a cable needle". I've been trying to cable without a needle so was looking forward to that part. Didn't work for me. My technique is more like Wendy's. So I talked with her and she verified that I understood it. And by the time the class was over I was making cables and not dropping too many stitches.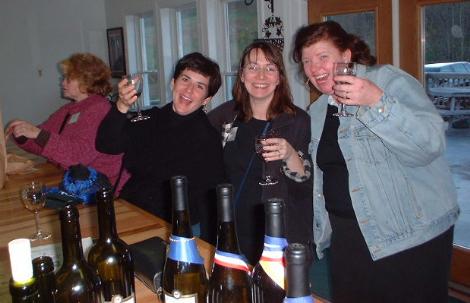 After the market, which I'll talk about tomorrow, I went with Annie, Kathy, Alissa and Connie to a local winery. Here they are tasting the local brew. Actually it was pretty good stuff. I didn't buy any because I already knew that my one piece of luggage was going to split wide open if I added one more thing. Annie shared a bottle of chardonnay before we went down to dinner (supper?)on Saturday night. My room was next door to Annie's so we had a chance to chat privately a couple of times. I really admire her and her committment to the knitting community. I hope I can meet up with her again next year when she comes to California for some teaching gigs.

After dinner on Saturday night
Jennifer
handed out the still wet skeins of wool that members of her dye workshop had worked on the day before. Some amazing colors there. I didn't have a good spot so the photo doesn't really show much except the crowd. See that bright orange stuff on the table? We had a needle felting presentation and that's some of the stuff being used to make pumpkins. It was interesting but I'm not crafty enough to get into that.
I'll have some pictures tomorrow of the stuff I bought and maybe some chatter about my trip.