Just one more
Okay. So I thought I was done with the Knitters' Retreat Review. But I forgot about the Swap Table. Got something to get rid of? Want to add something to your stash? This is where we got the chance.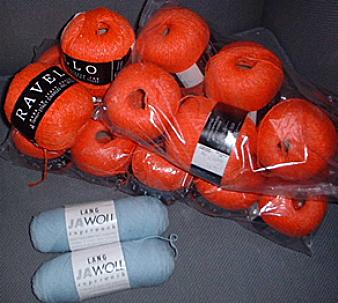 I didn't get a photo of the whole table, actually two tables, but this is what I rescued. Two skeins of JaWoll sock yarn and
seventeen
balls of Ravello. I felt a little sheepish taking this from the table since I hadn't brought anything to add. But I was repeatedly encouraged. Well, the sock yarn I didn't feel so guilty about. But the Ravello? I love this yarn. I made a shop sample a couple of years ago with it and it's fun and easy to use. I'm not sure what this will become. It is pretty orange after all. We'll see what Lisa says.
I'm back at Skein and have been overwhelmed since Tuesday. I stayed an extra two hours yesterday and am going in an hour early today. But this is Thursday Night Knit Together and I'm not gonna miss that.