Rabbit! Rabbit!
End of Summer
Even though it's a few weeks away, and even though it's hotter than blue blazes around here, there is still a strong feel of autumn. Maybe it's just because it's September and school's starting up again. The change of season is more gradual here in Southern California. We don't get a lot of fall foliage viewing, unless we go to the mountains.
Anyway. Last night while I was working on this poncho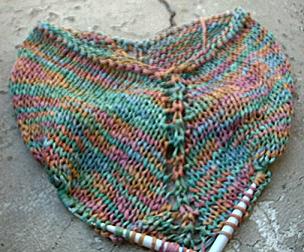 I was reminded of the beginning of fall when I used to live in New Hampshire a long time ago. The green of summer is still there but there are a few trees beginning to turn. I'm using Southwest Trading Company's Phoenix, 100% soy, in a colorway called Canyon. It's a braided tape and feels more like cotton than anything. It's very easy to work with, no splitting and very little twisting. There are 175 yards per skein and this is about half of the first one. The colors are not quite accurate in the photo. It's more subdued and not quite so teal.
Everyone must know the Yarn Harlot poncho by now. This is my third one using the pattern as written. I have some wool chenille that I think I'll use to make a more wintery version. I'll probably change to a different increase and maybe add a few more rows to the neckband.