Recent acquisitions
Here at the Museum of Aquired Stash (MAS) we never say no when someone wants to leave us some new stuff. This week we didn't have to go out to the open market to get our fiber fix. We had it hand fed to us.
First some new yarns from Lammia, one of our Thrusday night regulars.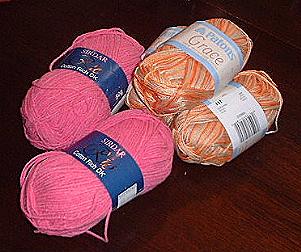 Three skeins of Paton's Grace. I already have thirteen in this color way and dyelot. Plus two skeins of Sirdar's Rio in a shocking pink. I am sort of on a pink kick right now so this will find a project very soon.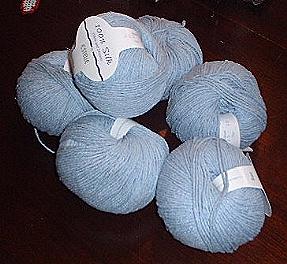 Six skeins of 100% silk from Estelle Designs. I don't know anything about this company but the fiber is beautiful. Maybe a top.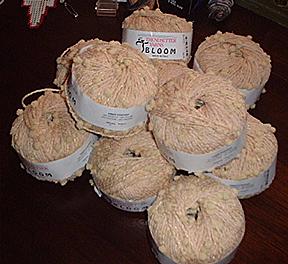 Trendsetter's Bloom. Ten skeins in a soft gold. First time I've ever actually seen this yarn. No ideas yet.
And then another round of acquisitions from Mendy, close friend and hostess of the Thursday night group.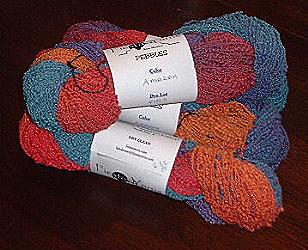 This is Fiesta Yarns Pebbles in the colorway Amazon. It's mostly cotton but there's a little bit of rayon to make it shiny. I think Pebbles has been discontinued.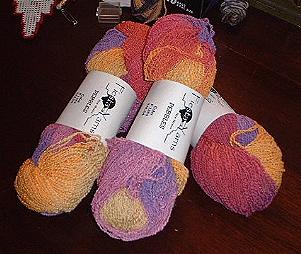 More Pebbles but in the colorway Salsa.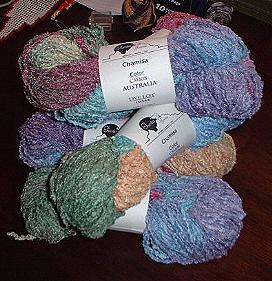 And finally, six skeins of Fiesta's Chamisa in Australia. Another possibly discontinued yarn. It's 100% rayon and is sort of a cross between boucle and chenille.
No MAS.
I hope this doesn't get eaten by Blogger.
And everyone have a great Labor Day weekend.