Mythic
There are some knitting patterns that are so well known that they are almost mythic.
Stephanie's
Harlot Poncho comes to mind. I've made three so far and have a few more planned. And almost everyone in my Thursday night group has done at least one.
Then, there's the multidirectional, diagonal scarf. (I tried to link to the pattern but it seems to have been taken down.) I have made I don't know how many of these scarves. I remember well enough how to make it but I wanted to tell one of my students about it and use it to teach her about short rows and decreases. So instead of the pattern I made several samples of the scarf at different stages and took them with me today. They were a big hit.
The student I made them for wasn't all that interested but her mom, also a student, started one right away. One sample I made used two yarns held together on a much larger needle that I would normally use. It's a lot less rigid and more open. And the very textured yarn creates a much different look from the ones I've made before.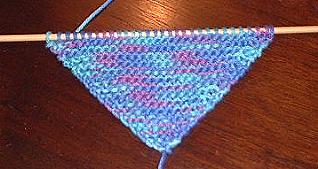 This one is Fantasy Natural from Plymouth. A nice worsted weight that is pleasant to knit. I like this well enough that I'll probably finish it and add it to the holiday gift stack.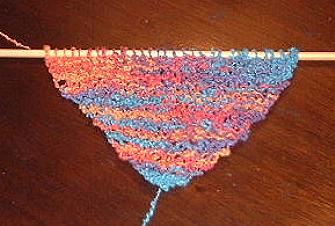 I tried the Fiesta Pebbles that I got last week. I didn't think the striping showed very well and the yarn is harsh. I'll probably rip this one and use it for
this one. I added a strand of Rowan's Sea Breeze, a cotton yarn that I think was discontinued about ten years ago. It made the Pebbles much easier to work with and, even though it's hard to see in the photo, made a much more definite stripe. I'm using a US13 here. I like the way it drapes. So another one for the stack.