It was so foggy this morning that it was literally impossible to see across the street. It's cleared up a lot now but it's still very hazy. Very happy that I don't have to go out early anymore and have to deal with the traffic.
Yesterday was so totally different. It ended being very hot but I was at the beach so it wasn't so bad. I went with two friends to
Alamitos Bay Yarn Company
that is right in the marina in Long Beach. I talked with one of the owners for quite a bit while my friends were shopping. She is always so pleasant and friendly. The shop was packed! I love going there because they always have lots of garments on display and they have gorgeous yarns, mostly Trendsetter and Prism but good selections from other companies as well. They've opened another space a few doors down from the main shop. They call it The Living Room. It's where they have knitting classes and seminars. Very comfortable and quiet. I got a couple of skeins of Lorna's Laces sock yarn.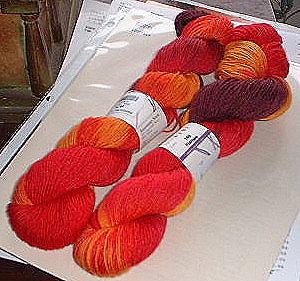 After we had lunch, at a nice place right on the water, we went to
Velona's
. I know. I was just there last week but my friends hadn't been in a while. I figured I might as well get this: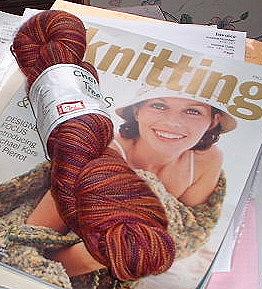 I almost bought it last week but decided I didn't need two new sock yarns. But now I have it after all. And I bought a copy of the current Vogue Knitting since I didn't get one at Skein and there are a couple of thing in this issue that I might consider making, if I ever get caught up on the current pile of projects.
I haven't had much time for knitting this weekend. I am almost done with the second shoulder of the Aran sweater that I started last Monday. I hope to finish that today and pick up the stitches for the front. That's a little doubtful though since I'm having lunch with Evelyn, a former co-worker, and then Lisa is coming over tonight. I have to do a little vacuuming and stuff like that before she gets here. And laundry if there's time.