Saturday and Sunday are pretty much alike as far as I'm concerned, except I don't spend as much time at Skein on Sunday. But pretty close. Seems like we always have someone come in just before closing on Sunday and we almost never turn anyone away, no matter what time it is. And then someone else comes in. I think we had as much business after closing today as we did during the posted hours. And it all works somehow. I had a student that needed just a few more minutes and she was in a panic that she wouldn't get to where she needed to be. So I didn't leave until almost an hour after we closed.
So I'm home and getting ready to work on the Easter vest. I'm also looking around for a baby sweater pattern to make for Nicholas, the new baby. I think I'd like to do something with lots of cables. Sounds like a Debbie Bliss. I do have some of her books so there should be something there. By the time I get it done we'll be past sweater weather so I guess I'll make a one year size.
I don't know what happened but I kept pushing buttons and trying different things and finally got my images to upload from my camera. Here's the latest London Beanie.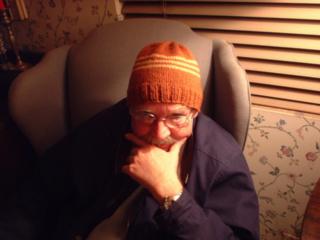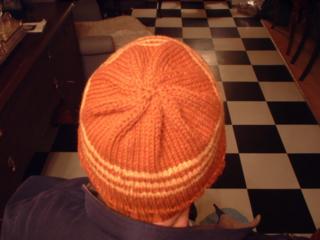 And the back view. I don't like the way the decreases gather and cause a sort of ruffled effect. I'm working on another one right now and thanks to
Joe
I have a new decrease to try. I think it will look a lot better. I should know in a couple of days.