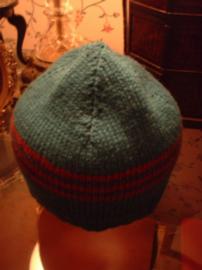 The backlighting makes this look a little more dramatic than it really is. This is the first version of the now celebrated London Beanie using the four point decrease. Instead of decreasing using a K2tog at equally divided intervals this one uses a SSk and a K2tog consecutively at 4 fixed points with one row worked even between each decrease round.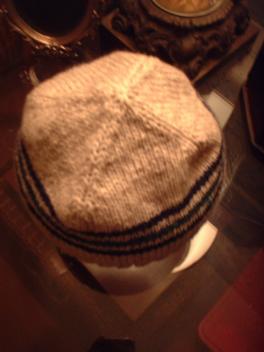 This is the second version of the four point decrease. On this one I inserted a single knit stitch between the two decreases. I haven't washed and blocked this one yet so it's a little messy looking. I tried inserting the knit stitch to minimize the gap between the two decreases that I got on the first version. Still deciding if I like this one any better.
I've decided to start the decreases sooner on these hats when I use either of these decreases otherwise the hat is too long and comes too far down over the face. I saw a "store bought" version tonight that I liked, except for the really garish colors. It was done with ribbing from start to finish. I didn't get a good enough look to tell how the shaping was done. Probably just machine stitched. I'll have to see if I can get to the mall and see how they're done commercially.
Anyway that's the saga to date of the hat shaping.