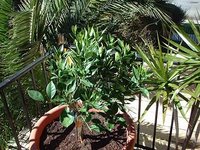 What is so rare as a day in March? After a couple of weeks of winterlike weather we have achieved spring. So I decided I'd better get this orange tree transplanted. There used to be a rose bush in this pot. A Judy Garland. After many years it was no longer as pretty as it once was and was mostly surviving as suckers. The new tree is the one Lisa gave me for my birthday.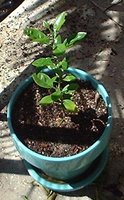 And here's the Mexican Lime that I got for Christmas. Also from Lisa. She started it from seed which is pretty difficult to do I hear. Anyway it's doing well but I don't expect to be having margaritas kissed with lime from this tree for a few years yet.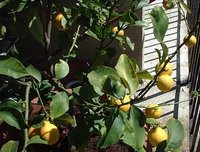 And finally, in my citrus orchard/balcony tour, here's the current crop of lemons. This tree is a few years old. The lemons are kinda scrawny, probably because I didn't feed the tree well enough. But they're just the right size of squeezing on fish or vegetables and not having any left over bits to save.
Have you figured out that I don't have any knitting related stuff? I'm still working on the felted bag shop sample. Almost done with the body. Now I have to make all those I-cord rings. And the current Dulaan sweater is moving along at a pretty good pace. I may finish the lower body today or this evening at Thursday night knitting.