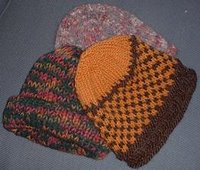 Here's some more Dulaan Hats. This is one of the images I was trying to post yesterday. They're all knit from stash. The one at top is Unger that I've had for maybe four years. It was already a discontinued yarn when I got it and I think the company was discontinued by then too. The hat on the right is from leftover Brown Sheep Lamb's Pride worsted. I think that was from yarn I got last year for some holiday gifts. And on the left, two strands held together. The solid is Wool-Ease that I've had for maybe three years and the multi-color part is Encore that I got about four years ago.
Of course, like most knitters, I have lots of other stuff in stash that I could use for hats or mittens or just about anything. I still keep buying yarn though. Six skeins of Clip, a heavy cotton from On Line, were added to my stash yesterday, along with an Addi Turbo, 10.5US, 60" circular needle. I just stopped by to say hello to a friend at Unraveled.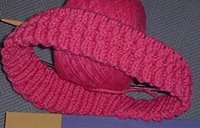 This is the beginning of a new sweater for Dulaan, the one I mentioned yesterday, in Plymouth Galway. I got this yarn at a weaving show at least seven years ago. I have ten hanks so I will have plenty for the small child's sweater plus several hats.
This post is late because I ran out of time this morning. Is anyone else having problems with Blogger? All the blogs that I read that use Blogger were
very
slow to open this morning and some I couldn't get to open at all.