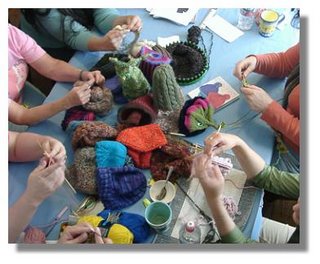 It's what we do on Mondays. Sometimes Tuesdays if Monday doesn't work. Our little gaggle of knitters, most of whom I met through Skein, gets together to work exclusively on items for the Dulaan project. The hats just keep on coming. It's lots of fun to see what has been produced during the previous week as well as what is currently on the needles. Clockwise from the right are the hands of Estelle, Lulu, Larry, Mendy, Susan and Renee. Judy was playing photojournalist, high overhead, shooting through the stairs, so her hands are not in the photo. Thanks, Judy, for sending me the photo and allowing me to post it.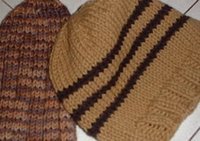 I finished a couple of hats yesterday. And here's a couple that I did over the weekend. Most of the yarn I'm using is coming from stash and much of it is pretty old.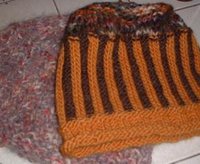 Or it's from leftover yarn used in more recent projects. Mostly it's great to just make up things on the go. Not that that always works out. I do have a few things that need to be recycled into something more resembling a hat for a reasonably sized head. I'm also thinking I need to make another sweater. Must go see what's available.
Does anyone know if washing yarn that looks like it has been attacked by moths is sufficient to get rid of the pests and their eggs? If you knit it up and then wash it, will that be enough to keep the eggs from hatching?