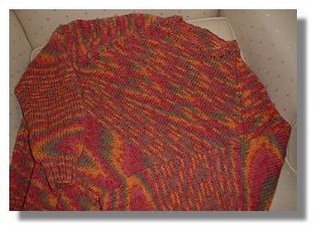 I'd have been here earlier but I've been busy. Today was our Dulaan knitting group and I wanted to finish this sweater. I used the bottom up raglan pattern from Ann Budd's
Handy Book of Sweater Patterns
. The previous raglan I made was from the top down. I'm not sure I prefer one over the other. But someone remind me before I take on another plain stockinette sweater of how boring they are to knit.
I didn't pay any attention to how this yarn striped or pooled. I do think it's interesting how the pooling occurred in almost the same spot on the two sleeves and on the body.
I've had the yarn for about three years, Encore Colorspun, but had never found anything to do with it. I sent a couple of skeins to a friend in South Carolina who made some hats and mittens with it. I still have four skeins left that I'm going to use for more hats and possibly some mittens if there's enough.
We had a good turnout for our Dulaan Day. Everyone has been super productive. There were lots of patterns to share, mostly hats, but there were a couple of vests and sweaters. I took along some of my hat books to share and for inspiration. Maybe next week I'll remember to take pictures.