Visualize a pom pom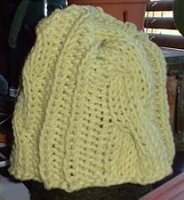 That's all this hat needs to finish it off. One of the patterns in the
Oneskein
book. I don't have one of those nifty pom pom makers and I'm too lazy to find some cardboard to make one. I think there's one at Skein that I can use when I go in today. If not, I'll just buy one. Not that I'm a big fan of pom poms but sometimes that's just what you need, either as a finishing touch or to hide the unintended sloppiness of the finishing. The actual color of the hat is more intense than you see here. I think it will look better on a real head instead of a cone of yarn.
This hat took less than four hours to knit in some bulky/chunky cotton I had on hand. Gauge and everything were perfect except I don't think cotton is all that warm so I'm going to see if there's still a skein of Rowan Polar available. I'm definitely going to make another one of these.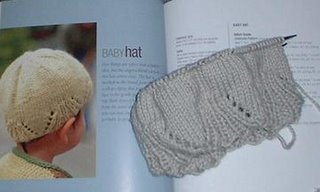 From the same book. A baby hat with unbrella lace on the edge. I didn't have the yarn called for, Lush from Classic Elite, so I'm using another of the SWTC Optimum. It's pretty close to gauge so I think there'll be a warm head somewhere in Mongolia. I still have a couple of inches to go before I start the top shaping but I should be finished this evening. All the fun happens in the first twelve rows. The rest is just a basic stocking stitch hat.