There's talk of rain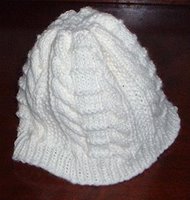 It hasn't rained nearly enough around here this winter. Winter? What winter? It was 90(F) last Sunday and today it's down in the mid 40s, likely to climb all the way up to 60. And rain, later today and through the weekend. It's hard to believe that given how bright and sunny it is right now.
Yesterday was one of my days off. I spent most of the morning finishing the Cabled Watch Cap. Again from Charlene Schurch's
Hats On!
. I didn't do the four inches of ribbing though as I was pretty sure I wouldn't have enough yarn. Used up the remainder of the skein of Encore I used for the Turkish Sock Pattern hat.
I've started two more hats that are fairly plain, just some contrasting color stripes. These are for when I can't sit and concentrate, like at work or at Thursday night knitting. There are a couple of other hats in the
Hats On!
book that I'm going to try to fit in next week.
Someone asked me why I would do something so complicated for charity knitting. My answer is "Why not!" Not only do I get to try some things I rarely get to do but knitting for charity isn't about just doing something that's good enough. I could go buy something for a lot less that would be good enough. When I work on these hats I'm thinking about who might get them. I like to imagine them wearing the hats and feeling not only warmer but happy in something that's out of the ordinary. That doesn't mean that I don't appreciate the simpler knits. Afterall I'm making some myself because quantity is also a factor. You need a lot of hats to warm Mongolia. And I get to use lots of crazy color combinations.