A couple of hats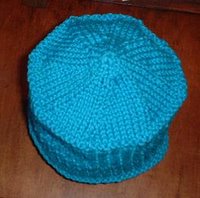 I already have several hats completed that are for the Dulaan project. These hats, however, are the ones I'm doing as my Knitting Olympics knitting. The first one is based on the Canadian Hat from Sally Melville's
The Purl Stitch
. It's a great pattern and works with lots of different yarns. This one is Soutwest Trading Company's Optimum, the discontinued yarn.
I haven't made this hat in a solid color before. I've used Kureyon and other multi-colored and textured yarns which I think I prefer. But this wool makes a very warm hat. I will have some leftovers from the four different colors I bought so I'll probably make something striped.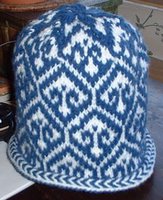 A Turkish Patterned Hat from Charlene Schurch's
Hats On
. Even though I've purchased lots of new yarns specifically for the Dulaan project I'm still using stuff from stash. This is some Plymouth Encore that I've had around for seven or eight years. I don't do much fairisle knitting so this one took a while, maybe three or four days off and on. I liked doing it but I think I messed up the top shaping, not the stitches, the needle size. I think I worked the main part on US6 but I used US8 dpns at the top.
There's a slight problem with the braided border. It wants to flip up. I hope it will stay down once I give it a good steaming. I've only done this braid one other time and I don't remember it behaving this way. It was fun to do. The Cocoon jacket, which I still need to get back to, uses this braid as the basis of some of its rounds. The yarn does get twisted but it untwists on the following row.
Given that we're already four days into the Knitting Olympics I think I'm falling behind. I'll probably do some simpler hats with really big yarn. I have started another hat that has cables and uses some more of the Encore. I'm going to work on that for the rest of today unless I decide to take a break and start something on larger needles.