More or less the same thing as yesterday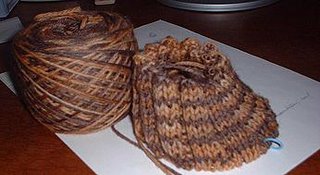 Remember yesterday when I said I wasn't getting much done because I'd been too busy socializing? Remember how I said I was going to start another hat last night and work on the one I already had started?
Guess what. It didn't happen. Lisa came over last night to show me her new car. And then we went to dinner and then we cleared out all the stuff on my old computer before I send it to be recycled. So not much got done and nothing new got started.
The hat you see here I started in the morning yesterday. It's from the Vogue On the Go book
Caps & Hats Two
. Slightly modified. I'm using some Andes wool that I got at
Unwind
a couple of weeks ago. It's a fairly nice yarn, 100% wool, that calls for a US8. I think it's a bit thin at that gauge but perhaps it will fluff up when it's washed. And I have it in two other colorways.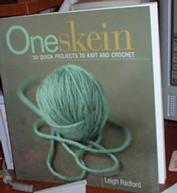 Have you seen this book yet? I just got it last Saturday.
Oneskein
by Leigh Radford. I really like it. There are several patterns that I really want to make including two different hat patterns. I got it at Skein. We didn't see it anywhere else when we went yarn shop hopping on Sunday. Anyway, it's worth the price I think.
So I'm off to do the stuff I planned to do yesterday. I finally got all the rebate forms for my new computer set up filled out and put in the mail. Now I just have to get rid of the boxes that I was going to use for yarn storage but decided they really wouldn't work all that well and I'd rather have some more storage cubes instead. I also need to find some place to dispose of my old computer and its peripheral stuff. Goodwill and Salvation Army don't seem too keen on getting electronics.