Three more hats and a lot to go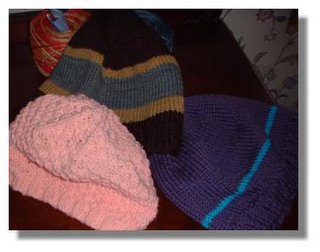 I think I'm going to be the last runner in this marathon. What is this? Six hats total and I'm going for sixteen. And only how many days to go?
The problem, or the excuse, is that this month is very busy for me. Mostly there's extra social stuff having to do with my birthday which fell on the day the Olympics began. I'm not complaining. Just saying maybe I should have been a bit more cautious in setting my goal, or realistic. I've started another hat that's fairly simple and I'll be starting something else tonight so I can alternate between boring and not so boring.
Yesterday was a social day. Four friends from my Thursday night knitting group and I went to Long Beach to check out
Alamitos Bay Yarn Company
. I've been a number of times but it's been a while. It's a neat shop, located right on the water in the marina. It was a gorgeous day. Cool but sunny and breezy. We had lunch at Buster's next door and watched the sail boats and cabin cruisers passing by.
After lunch we went to
Velona's
in Anaheim Hills. It's like going into the catacombs or some secret vault. I'm always in a daze when I come out of there. Some of their yarns are from companies that no longer exist or are yarns that have long been discontinued. But it's the place to go if you're looking for that extra skein of an old yarn. Of course, there's plenty of the new stuff. I didn't buy anything at Alamitos Bay except one button but at Velona's I loaded up on Brown Sheep Naturespun worsted. Eleven colors, one skein each. Even if I don't make my goal for the Olympics I'll have plenty of yarn for Dulaan mittens and hats. I'll just be a little late.