What to do, what to do?
I suppose everyone knows about it by now. I started running across references to it this morning when I was doing the blogs. Since I read blogs alphabetically it was a while before I got to
Stephanie's blog
. And there it was, the Knitting Olympics challenge.
That's seemed like a great idea. But what to do that would be a challenge. I have several projects that I would like to get started on but I'm notoriously bad about completing them. So that's really the challenge for me. That, and picking something I really would enjoy working on and that would keep my attention from wandering.
I could do the Lady Eleanor shawl from
Scarf Style
. Probably not interesting enough. And there's a sweater I want for myself from the Noro Kureyon I got last week. Too easy to keep me going. I may have to use that yarn for something else now that I think of it. And then there's the Aran Pullover by Kristin Nicholas from the current Interweave Knits. I think that's the one I'll do. I have the yarn and now's a good time to work on it. I still have some time to think about this since the challenge doesn't start until Feb. 10.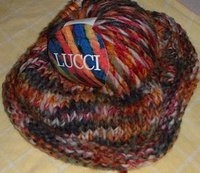 Meanwhile. I went to Stitch in Time on Monday to pick up a circular needle for the back of the Tzarina wrap. The stitches will fit on a regular length straight needle but it's a squeeze. Stitch in Time has the best prices on knitting accessories of any local shop. You might do better on line but you'd have to wait for it.
While I was there I came across this yarn from a company named Lucci. Never heard of them? Neither had I. They're in Bayside, NY. I liked the colors and the sort of fuzzy, felted look the yarn has. So I got a couple of skeins. $8.00 each. I'm at the end of the first skein and just about ready to start the decreases on this, the fortyleventh hat I've made in the last two months. I know. They're easy but at least I finish them.