Things that don't work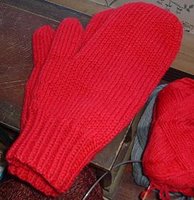 These mittens work. It's another pair of mittens that I will be sending to the Dulaan Project. I hope to get the final version of the pattern posted to my pattern page in the next day or so. That is if I can get my computer to work.
I've been getting blue screened again and some occasional freezes. And lots of warnings that there is not enough system space available to function. Even though things happen. I just have to wait a bit. Most of the time.
I went to Best Buy this morning to get some ink cartridges because my printer doesn't work. I've been getting low ink messages so I think that's the problem. Best Buy is out of the ones I need.
So while I'm there I decide to look at computers. That works. There was actually someone there to help. Except I'm not real confident about how to transfer stuff from my current computer to the new one. He suggested that all I needed to do was copy things to a disk and load that into the new computer. Can it be that simple?
I also looked at VCR/DVD players because my current VCR doesn't work. It won't eject. I looked around and found someone who graciously pointed to where the players are and then he left. I didn't buy one yet because I know I will have to unload everything from the cabinet so I can move it out from the wall in order to hook up the new one. I'll have to work on that.
I went to the post office and that worked. I sent off a couple of packages to friends in North Carolina. If that works they should have them in a day or so. I also went to Kaiser to turn in some test material. Like to never have found a place to park. But that's done. So far all the regular check up tests I've been taking are fine. Normal, for me, is how the recording put it. I don't know what most of the tests are but I'm normal and that works for me.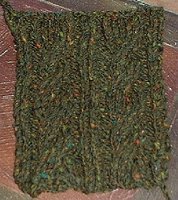 Here's another thing that doesn't work. I swatched this on Saturday night and washed it. It's way smaller than it's supposed to be. But I figured I could just make the next size and everything would average out.
The yarn is really hard to work with. It feels almost greasy. It's a two ply tweed that was a gift from the Thursday night benefactress, the one who gave me all that yarn last week. I spent several hours working the rib and about ten rows of the cable pattern. The back of my hands felt like all the little bones had been crushed. Then I began to fret that I won't have enough yarn to make the vest I had started.
I looked inside the cone to see it there was any way I could figure out how much I had. The handwritten label said 839 yards per pound. But I don't know how many pounds I have. I'll have to uncover the kitchen scale. While I was looking at the label I saw that the yarn was rated at worsted, not the dk weight I thought it was. So I ripped the whole thing and my hands feel much better.
And furthermore, my local classical radio station doesn't work. They're having transmitter problems. So I've been trying to listen on line. That works, sometimes.