Pictorial evidence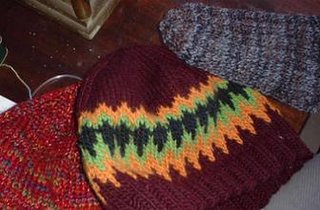 Last week, mostly over the weekend, I continued to make hats. Here's the latest three. I still have several more that I want to make using the yarn I got specifically for hats. But I'm taking a short break to do this:
This is a sweater I started last spring that was supposed to go in my initial Dulaan shipment. The yarn is Lion Brand Kitchen Cotton. It's very stiff and it's hard on my hands. I put it away.
A couple of days ago I began obsessing about it. Who knows why these things happen? Anyway, while I watched part of the Rose Parade, I got it out and finished the yoke section. Then later in the day I completed most of the first sleeve. I used dpns for the sleeves because I can't find a 16" size 7 circular around here. I did find an empty package though so there must be one somewhere.
This morning I finished the first sleeve and have the second sleeve picked up and ready to go. Not sure how much I'll be able to do tonight though. My hands, and my left shoulder, are feeling it. I'm not very pleased with how it looks. I'm hoping that a good washing will help even out some of the stitches and make the sweater a bit softer and more wearable. I know this color runs so it'll get a private bath.